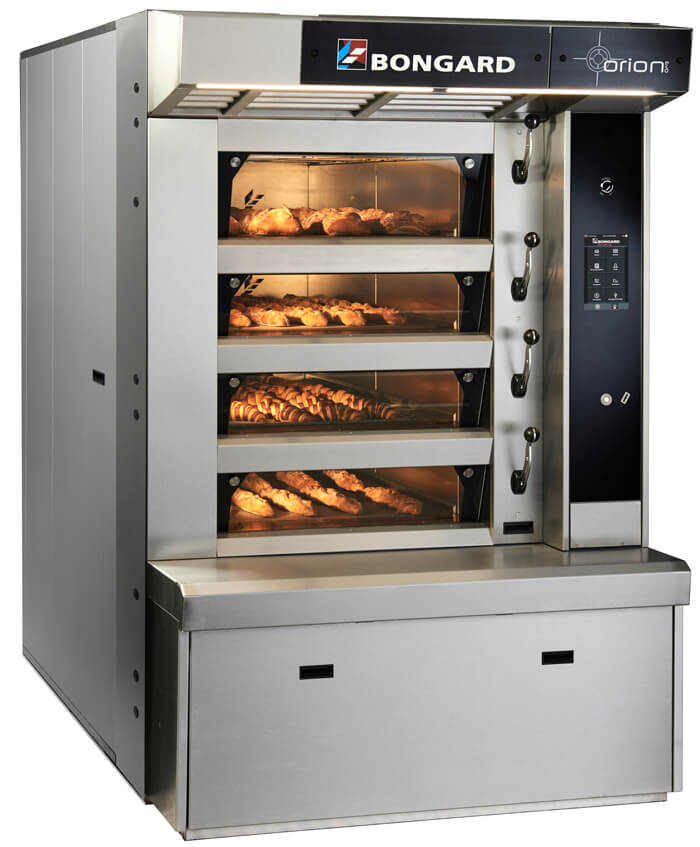 Deck oven Orion EvO
Characteristics
The ORION EVO range of electric deck ovens, Bongard's best-seller, comes with 3 to 5 decks, in 1 or 2 tracks of 600 or 800 mm for deck depths between 120 to 240 cm.
Highly responsive, the ORION EVO maintains production output rates with precise energy consumption management.
With state of the art technology, it offers an unparalleled level of excellence in the control and precision of baking and pastry products.
The true brain of the oven is its INTUITIV'2 control unit, which manages all the decks and makes baker and pastry chef's lives easier, from programming recipes, to delayed start baking and independent baking management. Multi-purpose, it is ideal for cooking all types of dough, whether fresh, cold (namely if you work with the PANEOTRAD® method) or frozen raw dough.
Discover the energy-saving features of ORION EVO
Compatible with
Pastry Danish Crusty bread Snacking Cold dough Bakery
Description
The advantages
• Baking quality comparable to that of traditional ovens
• An oven for a sustained rhythm
• High baking capacities
• Flexibility of the oven to produce fresh bread at any times of the day
• Modular oven (it may be adapt from 3 to 4 decks)
• Economic
• Premium quality
• Easy to clean: sole et vitres
• Oven may built-in on 1 side (opposite to the technical zone) and at the rear